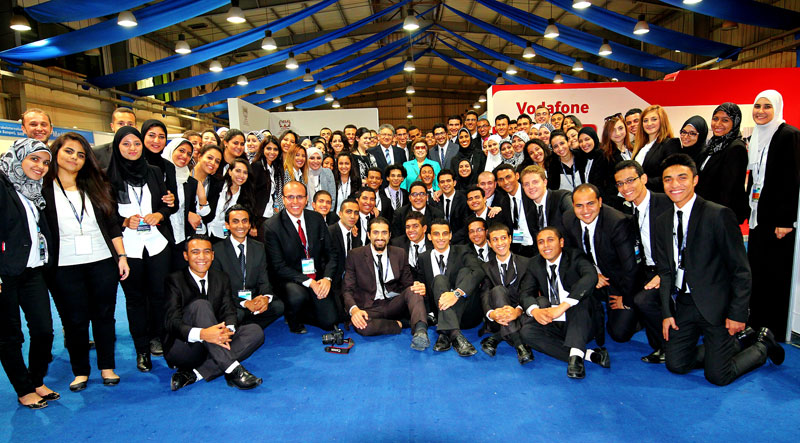 On December 6th and 7th 2014, MSA successfully held its 8th annual employment fair which was one of the biggest events in Egypt; it hosted more than 50 top employers of different fields and was organized by MSA students.
The fair started with a presentation about MSA and its organization followed by the registration process of job seekers. MSA students volunteered for the ushering of the event and provided assistance to all partners resulting in a very well organized event as per the feedback received from the employers. 
This event provided diversified job opportunities and internships in different levels starting from fresh graduates to executive directors and experienced business managers in several fields such as "Banking, Human Resources, Marketing and PR, Advertising, Automotive, Tele-communication, Construction, Real estate, Project Management, Sales, Auditing, Finance and Accounting, Supply chain, Pharmaceuticals, Dentistry, Arts and Design, Interior Design, Training, Academic, Teaching, Research, Calling Center, Recruitment, Information Technology, Computing and programing, Industrial Engineering, Biotechnology, Architecture, etc" 
The fair was targeted to MSA students and graduates in addition to other graduates with experience and post graduate studies. Below is the list of participating companies:
Testimonials by Employers
Leap Advertising: "CPC representatives are extremely professional"
Ernst & Young: "The organization team was highly responsive as the 2nd day was noticeably better than the first one. Thanks and keep up the good work"
Metlife Alico: "This level of professionalism from undergraduates deserves more attention and publicity as remarkable lighthouse of hope."
The Canadian Chamber of Commerce in Egypt: "Excellent job. Everything was well organized to the smallest details and everyone was helpful"
The Döhler Group: "Marketing for the fair was great and much better than last year Ushers and SWAT are really helpful. Students are role models."
Xerox: "Thanks for the experience"
Valeo: "Thanks from the whole team"